Sunday 14 May 2017
A selection of the best online shops for you to find flowers, chocolate, perfume, lingerie and gift hampers.
Check this website out for great gift ideas to spoil your mum!
Celebrating Mother's Day in Australia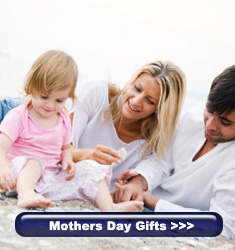 Some mums get breakfast in bed, others gifts of roses and flowers – all a sign of appreciation and love.
Mothers Day in Australia is a special day for mothers where families often get together.
If you are looking for a gift for your mum to buy online quickly and easily you will find some great online websites below.
Choose from some great gift ideas such as Flowers, Chocolates, and Gift Baskets to spoil your mum this mothers day.
---
---
The BEST Mother's Day Gift Ideas
Flowers & Roses
Best Online Florists to make your selection a breeze.
Books
Give Your Mum her favorite Celebrity's Cooking book. Popular chefs books featured are Donna Hay, Gordon Ramsay, Iain Hewitson, Jamie Oliver, Kylie Kwong, Neil Perry and Nigella Lawson
Chocolates
Chocolates are a favorite gift for Mothers Day.
Gift Hampers & Baskets
Popular and easy to choose.
Green/Eco_Friendly
Make this Mother's Day and eco- friendly one!
Indulgent
A Holiday or a luxurious massage chair?
Jewellery
Put some sparkle in your Mother's Day
Lingerie
For Sexy Mums!
Music and Movies
Plenty to choose from.
Perfume
Something different.
New Mums
First Mother's Day – Spoil Mum and the Baby
Young Mums
Flowers and Gifts for the young mum.
Mums
Browse and buy your mum a gift this Mother's Day online – quickly with no fuss.
Grandmothers
Bright ( just like the photo of grandma on this website)gift ideas for your grandma.
Last Minute Gift Ideas
Gift vouchers of any type can be bought at the last minute….
Mother's Day is in honour of the best mother who ever lived – the mother in your heart
Anna Janis, 1864 – 1948 ( Founder of Mother's Day celebration in the US )