Australia day is celebrated in every state of Australia.
Tuesday 26 January 2016
Its great to be Australian and on this public holiday there are plenty of events held around the country to celebrate. Australia Day is an official public holiday in every state of Australia with Australians attending citizenship ceremonies, music festivals, the Cricket or BBQs with family and friends.
If you are planning a get together on Australia Day some old Aussie favorites to include on your menu could be … a roasted leg of lamb, meat pies and Sausage rolls – home made or bought ( party pies for nibbles), damper, Prawns on the BBQ, T-Bone Steak, lamb chops and Sausages on the BBQ, Beef burgers with the lot, and for desserts a pavlova, lamingtons, or vanilla slice.
With so many public holidays in the first 6 months of the year, it's the perfect opportunity to go on another holiday or get away for a few nights and remove yourself from the daily grind.

---
---
Australia Day Events for 2016
Adelaide
Australia Day Breakfast and Celebrations 2015
Free Breakfast served by combined service clubs – cereal, orange juice, bacon, egg, toast, tea or coffee from 7.30am. Australia Day in the City
Australia Day in the City – Parade, Concert & Fireworks is South Australia's largest Australia Day celebration held in the heart of Adelaide at Elder Park. Join more than 40,000 people celebrating Australia's national day
Brisbane
Ipswich Free Family Fun Day
Make a splash on Australia Day with free entry to all pools Aussie Beach Party
Rock out at the Aussie Beach Party this Australia Day featuring Australian Tribute Bands and local artists. There will be plenty of family fun including food and market stalls, face painting, amusement rides, beach activities, thong throwing, ice cream eating competition, kid's workshops and more.
Melbourne
Australia Day Parade 2015
One of Melbourne's favourite Australia Day activities, the colourful Australia Day Parade sees thousands of people line Swanston Street to enjoy the entertainment, wave their flags and cheer on the participants. Victorians from all walks of life participate in this annual parade along Swanston Street, over Princess Bridge and into Kings Domain. Day of Nations Hampton Park
The Hampton Park Progress Association will present a FREE event that will feature an Aussie breakfast, multicultural entertainment, face painting, jumping castles, animal farm, community group displays and much more. Perth
Rockingham Foreshore Australia Day Celebrations 2015
Live performances from Chain Reaction and our very own local talent, as well as many children's activities and carnival rides. City of Perth Australia Day Skyworks
Events will include a free Entertainment Zone on Langley Park, an Air and Water Show will entertain above and on the Swan River, Survival Perth in Supreme Court Gardens featuring Geoffrey 'Gurrumul' Yunupingu and of course the spectacular Skyworks fireworks finale which will include a special laser and water show visible from Langley Park.
Sydney
Hyde Park Summer Playground
Australia Day 2015 will see Hyde Park come alive and transform into a Summer Playground for Aussie kids. Children will get the opportunity to see their favourite television characters and enjoy in the family friendly and free activities. Ferrython
Ferrython, one of Australia's most popular and iconic free events, sees our beloved ferries go head-to-head: racing from Circular Quay to Shark Island and back to a glorious finish at the Sydney Harbour Bridge. Pack a picnic and gather on the foreshore to cheer on the ferries as they get fast and furious.
Advance Australia Fair
Verse 1
Australians all let us rejoice,
For we are young and free;
We've golden soil and wealth for toil;
Our home is girt by sea;
Our land abounds in nature's gifts
Of beauty rich and rare;
In history's page, let every stage
Advance Australia Fair.
In joyful strains then let us sing,
Advance Australia Fair.
Verse 2
Beneath our radiant Southern Cross
We'll toil with hearts and hands;
To make this Commonwealth of ours
Renowned of all the lands;
For those who've come across the seas
We've boundless plains to share;
With courage let us all combine
To Advance Australia Fair.
In joyful strains then let us sing,
Advance Australia Fair.
Australian national Anthem – choir, Australian imagery, no lyrics, two verses
Sam Kekovich Australia Day
Aussie Pavlova Recipe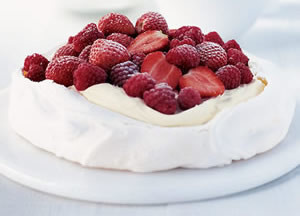 The pavlova is a simple easy to make dessert that Australians love. Decorate with whipped cream and your favorite topping.
8 egg whites
3 cups sugar
2 teaspoons vanilla
2 teaspoons vinegar
2 rounded dessertspoons cornflour
1) Line a baking tray with baking paper.
2) Place egg whites (dont let ANY egg yolk get in your whites – use 2 teacups and separate eggs one at a time then add the egg whites to the bowl !) in a warm DRY basin and beat until they stand in peaks.
3) Gradually add half the sugar adding it to the mixture a dessertspoonful at a time.
4) Sift the remainder of the sugar into the mixture and fold in lightly , then quickly add the cornflour, vinegar and vanilla.
5) Spread in an even circle on the tray and bake in a slow oven for about 1 ½ hours. If you want a crispier crust on the pavlova you can increase the oven temperature and cook it for less time. When you do this the outside is crisp and the middle of the pavlova takes on a "marshmallow" consistancy.
6) Decorate with whipped cream and strawberries/cherries/blueberries OR Grated Peppermint Crisp Chocolate bar/ peppermint sprinkle topping
Australia Day Scones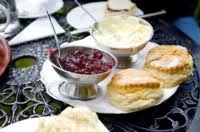 3 cups self-raising flour
1 egg
1 cup lemonade
1 cup cream
1) Preheat oven to 220 degrees.
2) Add lemonade and cream to flour and mix to form a soft dough.
3) Place dough on a floured surface.
4) Knead dough to 2cm thickness and cut with a floured cutter.
5) Place close together on tray, brush with beaten egg and bake for 10-15 minutes.
6) Serve warm Serve with Raspberry or Strawberry Jam & Freshly Whipped Cream