Saturday 25 April 2015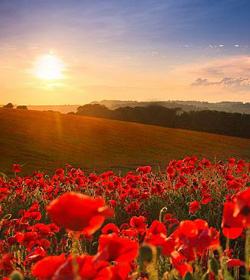 Anzac day in Australia is the anniversary of the first major military action fought by Australian and New Zealand forces during the First World War.
Australians come together on ANZAC Day and spend time remembering the sacrifices of those who died in war protecting our country.
Anzac Biscuits
A group of women during World War 1 decided to make biscuits to send to the soldiers that would provide nutrition and keep for a long time.
They were originally called "Soldiers biscuits" but after Gallipoli the name was changed to Anzac biscuits. Anzacs are an Aussie favorite – They are are great tasting and easy to make.
Cook some up this Anzac day to share with your family and friends.
---
---
Recipe for Anzac Biscuits.
1 cup rolled oats
1 cup plain flour
1 cup sugar
¾ cup coconut
125g (4oz) butter
2 tablespoons golden syrup
½ teaspoon bicarbonate of soda
1 tablespoon boiling water
1) Combine oats, sifted flour, sugar and coconut.
2) Combine butter and golden syrup, stir over gentle heat in a small saucepan until melted.
3) Mix bicarbonate of soda with boiling water in a teacup. Add to melted butter mixture. Pour into dry ingredients and stir.
4) Place tablespoonfuls of mixture on oven trays (for easy cleanup place a piece of baking paper on the tray)
5) Cook in a slow oven for 15-20 minutes. Makes about 35.
6) Try and stop your family eating them while they are still warm and soft.
Once they are cool they will go harder and you canAnzac Biscuits store them in a container.
Anzac Biscuits Recipe ( PDF49kb)
Dulce Et Decorum Est
by Wilfred Owen (18 March 1893 – 4 November 1918)
Bent double, like old beggars under sacks,
Knock-kneed, coughing like hags, we cursed through sludge,
Till on the haunting flares we turned our backs
And towards our distant rest began to trudge.
Men marched asleep. Many had lost their boots
But limped on, blood-shod. All went lame; all blind;
Drunk with fatigue; deaf even to the hoots
Of disappointed shells that dropped behind.
GAS! Gas! Quick, boys!– An ecstasy of fumbling,
Fitting the clumsy helmets just in time;
But someone still was yelling out and stumbling
And floundering like a man in fire or lime.
–Dim, through the misty panes and thick green light
As under a green sea, I saw him drowning.
In all my dreams, before my helpless sight,
He plunges at me, guttering, choking, drowning.
If in some smothering dreams you too could pace
Behind the wagon that we flung him in,
And watch the white eyes writhing in his face,
His hanging face, like a devil's sick of sin;
If you could hear, at every jolt, the blood
Come gargling from the froth-corrupted lungs,
Obscene as cancer, bitter as the cud
Of vile, incurable sores on innocent tongues,
–My friend, you would not tell with such high zest
To children ardent for some desperate glory,
The old Lie: Dulce et decorum est
Pro patria mori.
"Dulce et decorum est pro patria mori" is a Latin quote from Horace meaning "it is sweet and fitting to die for one's country."
Wilfred Owen's poem "Dulce Et Decorum Est" was written during his World War I experience. Owen an officer in the British Army was deeply opposed the intervention of one nation into another.
The poppy belongs to Remembrance Day, 11 November. In Australia, single poppies are not usually worn on ANZAC Day, however wreaths of poppies are traditionally placed at memorials and honour boards on ANZAC Day.
Gallipoli – The First Day
The ABC have put together a documentary website about the WW1 ANZAC landing at Gallipoli, on 25 April 1915. This website is fantastic and well worth having a look at. It covers the ANZAC landing , Personnel, Campaign overview and Military hardware. This is a great way for future generations to learn about the History of ANZAC day.